My Blog
Posts for: June, 2013
By Penny Creek Family & Implant Dentistry
June 26, 2013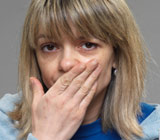 While most people can expect to have a temporary case of bad breath after eating spiced foods like garlic, smoking, drinking coffee or wine, odor that persists and becomes chronic is not something to take lightly. We can help diagnose the underlying cause of your bad breath, making both you and the people around you much happier!
Chronic bad breath, also known as "halitosis," affects about 25% of Americans to some extent. Treating the condition effectively requires a thorough oral examination to uncover the source of the odor. Although some forms of bad breath can be caused by medical conditions like diabetes, lung infections, even kidney failure and cancer, between 85% and 90% of cases originate in the mouth. There are more than 600 types of bacteria found in the average mouth and, given the right (or, should we say, wrong) oral environment, dozens of these bacteria can produce foul odors including a "rotten egg" smell from the production of volatile sulfur compounds (VSCs).
Some of the oral causes of bad breath include:
Naturally occurring bacteria found on the back of the tongue that thrive on food deposits, dead skin cells and post nasal drip (Yuck!);
Dry mouth, after sleeping, especially when an individual breathes through his or her mouth;
Unclean dentures;
Decaying or abscessed teeth;
Diseased gums; and
Infected tonsils.
Once the exact origin of the odor has been determined, we can tell you what form of treatment you'll need to successfully banish the bad breath for good. If your problem is merely the result of poor oral hygiene you can play a large role in turning your situation around. In any case, treatments for mouth-related halitosis can include:
A careful, at-home plaque control routine using dental floss and a special toothbrush designed to clean between teeth — nobody really knows how to properly clean without professional instruction;
In-office and at-home tongue cleaning using a tongue scraper or brush;
Instruction on how to properly clean your dentures;
To treat underlying gum disease, periodontal therapy in the form of a deep cleaning, also known as scaling or root planing; and
Extraction of wisdom teeth that exhibit debris-trapping gum tissue traps.
So if you are ready to toss your breath mints away and pursue a more permanent solution to rectify your mouth odor, call our office today to schedule an appointment. For more information about the causes of bad breath, read the Dear Doctor magazine article "Bad Breath: More Than Just Embarrassing."
By Penny Creek Family & Implant Dentistry
June 13, 2013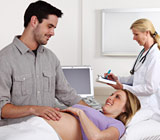 Already read every "What to Expect" book twice over? Think you know something about how pregnancy affects your teeth and gums — and vice versa? OK, ace — test your knowledge by taking the quiz below. No peeking at the answers!
Myth or fact: The calcium in baby's teeth comes from mom's teeth.
MYTH. Calcium is needed to build baby's teeth and bones, but it should come primarily from the mother's diet, not her body. If an expectant mom's diet contains too little calcium, however, this essential mineral may be supplied from calcium stored in her bones. That's one reason why a proper diet — with an adequate intake of dairy products, plus dietary supplements, if recommended — is important throughout pregnancy.
Myth or fact: Developing symptoms of periodontal disease is common during pregnancy.
FACT. The levels of many hormones, including progesterone, are higher during pregnancy. When periodontal disease is present, progesterone stimulates the body to produce prostaglandins, which cause inflammation of blood vessels in the gum tissue. This can result in a disease called pregnancy gingivitis. Excess growths of gum tissue called "pregnancy tumors" may also develop. These benign growths are probably related to dental plaque.
Myth or fact: Untreated dental infections pose a risk to the fetus as well as the mother.
FACT. Studies have shown that pregnant women with severe periodontal disease are at greater risk for preterm birth and low birth weight babies, and may be susceptible to an increased rate of pre-eclampsia, a serious complication. This seems to be due to the fact that oral bacteria can trigger inflammatory responses in other parts of the body — even the placenta. That's why a dental evaluation is so important at the first sign of a potential problem.
Myth or fact: All moms should take fluoride supplements to help their babies form strong teeth.
MYTH (for now). The benefits of parental fluoride supplements are poorly studied, and at present remain controversial. Although baby's teeth begin forming in the second month, fluoride works best after the teeth have erupted in the mouth. So, at present, this practice isn't recommended by the American Academy of Pediatric Dentistry.
Myth or fact: Once your baby is born, it's OK to feed them pre-chewed food or slobber over them.
Myth (we gave that one away). First of all, it's gross. Second, while your baby isn't born with the bacteria that cause tooth decay, this behavior can transmit them from you to her, causing dental problems down the road. So don't do it. But do come in for a dental evaluation as soon as you know you're expecting. And have a safe and healthy pregnancy!
If you would like more information about pregnancy and oral health, please contact us or schedule an appointment for a consultation. You can also learn more about this topic by reading the Dear Doctor magazine articles "Pregnancy and Oral Health," and "Expectant Mothers."