My Blog
Posts for: January, 2017
By Penny Creek Family and Implant Dentistry
January 16, 2017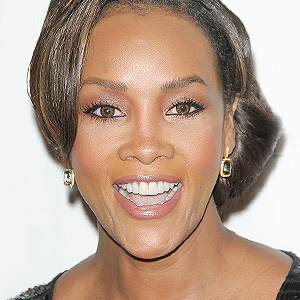 Is having good oral hygiene important to kissing? Who's better to answer that question than Vivica A. Fox? Among her other achievements, the versatile actress won the "Best Kiss" honor at the MTV Movie Awards, for a memorable scene with Will Smith in the 1996 blockbuster Independence Day. When Dear Doctor magazine asked her, Ms. Fox said that proper oral hygiene was indeed essential. Actually, she said:
"Ooooh, yes, yes, yes, Honey, 'cause Baby, if you kiss somebody with a dragon mouth, my God, it's the worst experience ever as an actor to try to act like you enjoy it!"
And even if you're not on stage, it's no fun to kiss someone whose oral hygiene isn't what it should be. So what's the best way to step up your game? Here's how Vivica does it:
"I visit my dentist every three months and get my teeth cleaned, I floss, I brush, I just spent two hundred bucks on an electronic toothbrush — I'm into dental hygiene for sure."
Well, we might add that you don't need to spend tons of money on a toothbrush — after all, it's not the brush that keeps your mouth healthy, but the hand that holds it. And not everyone needs to come in as often every three months. But her tips are generally right on.
For proper at-home oral care, nothing beats brushing twice a day for two minutes each time, and flossing once a day. Brushing removes the sticky, bacteria-laden plaque that clings to your teeth and causes tooth decay and gum disease — not to mention malodorous breath. Don't forget to brush your tongue as well — it can also harbor those bad-breath bacteria.
While brushing is effective, it can't reach the tiny spaces in between teeth and under gums where plaque bacteria can hide. But floss can: That's what makes it so important to getting your mouth really clean.
Finally, regular professional checkups and cleanings are an essential part of good oral hygiene. Why? Because even the most dutiful brushing and flossing can't remove the hardened coating called tartar that eventually forms on tooth surfaces. Only a trained health care provider with the right dental tools can! And when you come in for a routine office visit, you'll also get a thorough checkup that can detect tooth decay, gum disease, and other threats to your oral health.
Bad breath isn't just a turn-off for kissing — It can indicate a possible problem in your mouth. So listen to what award-winning kisser Vivica Fox says: Paying attention to your oral hygiene can really pay off! For more information, contact us or schedule an appointment for a consultation. You can read the entire interview with Vivica A. Fox in Dear Doctor's latest issue.
By Penny Creek Family and Implant Dentistry
January 08, 2017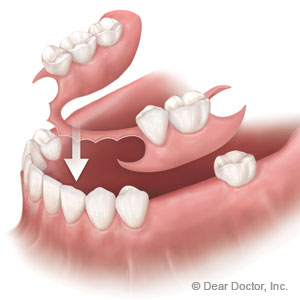 Dentures in one form or another have been around for centuries. Although dental implants have earned a well-deserved prominence of late, the denture still remains a viable tooth replacement option.
What's more, dentures aren't reserved for total tooth loss only. Even if you've lost just a few of your teeth, we can fit you with a removable partial denture (RPD). Although mainly considered a temporary solution for missing teeth, some people depend on an RPD for many years due to finances or other issues.
The traditional RPD consists of a rigid acrylic plastic base that resembles gum tissue supported by a metal framework, with prosthetic (false) teeth precisely placed to fill the space of the missing teeth. They're held in place with metal clasps that extend from the metal framework to fit over the remaining natural teeth.
Although they're an effective restoration, traditional RPDs have a few drawbacks. Some people find them uncomfortable to wear or have an allergy to the acrylic plastic. They also have a propensity to stain from beverages like tea, coffee or wine.
But there's a more recent version called a flexible RPD that addresses these and other concerns. It's made of a pliable nylon that's durable, yet comfortable to wear. Rather than metal clasps, they're secured in place with thin, finger-like nylon extensions that fit into the small, natural depressions in the crowns of the teeth around the gum line.
Flexible RPDs are also highly adaptable to appear life-like in many situations. We can fashion the nylon base to cover areas around natural teeth where the gums may have receded due to gum disease.
They do, however, have a few downsides. Unlike traditional dentures, they're difficult to reline or repair. Like any oral appliance, they can suffer from wear and neglect, so you must properly clean and maintain them. And, like any RPD their best role is as a temporary bridge rather than a permanent restoration.
In the meantime, though, you can count on a flexible RPD to restore your ability to eat and speak proficiently, as well as smile with confidence. It's a great affordable way to address a few missing teeth.
If you would like more information on dentures as a restoration option, please contact us or schedule an appointment for a consultation. You can also learn more about this topic by reading the Dear Doctor magazine article "Flexible Partial Dentures."