My Blog
Posts for: March, 2020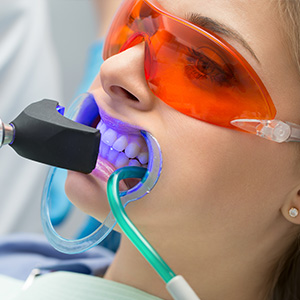 Your teeth were meant to shine! Tooth enamel's polished translucence, framed by the dentin layer beneath it, has a way of vibrantly catching the light when you smile. But tooth wear and structural changes as you age can dim that shine. Add to that staining caused by foods and beverages or disease and your smile could further lose its luster.
On your supermarket or pharmacy oral hygiene aisle you'll find dozens of products promising to restore that lost luster, including toothpastes, whitening kits or even chewing gum. While such products work to some degree, our dental office may have the right solution for you: a safe and effective treatment for whitening teeth.
Why see us for teeth whitening? For one, professional whitening solutions contain a higher concentration of bleaching agent (usually 35-45% hydrogen peroxide) than home kits. We usually apply it in a gel form directly to the teeth while using barrier devices like dams to protect the lips and other soft tissue from irritation. We may then apply heat or light to the applied gel to enhance the release of peroxide into your enamel.
This professional procedure can often give you a brighter smile in fewer sessions than a home whitening kit — and it may last longer. What's more, we can control the level of brightness to produce only a subtle change or a dazzling "Hollywood" smile — whatever your preference.
Like a home kit, this procedure bleaches staining on the outer surface of enamel, known as extrinsic staining. But you can also have discoloration deep within a tooth, known as intrinsic staining, caused by a variety of reasons like tetracycline use early in life or complications from a root canal treatment. Home kits or even the professional treatment described above can't whiten intrinsic staining.
For intrinsic staining you'll need a special procedure that places a bleaching agent inside the tooth. Depending on the extent of staining the procedure could require more than one session.
To find out what kind of discoloration you have, visit us for a full examination. We'll then be able to give you your options for putting the shine back in your smile.
If you would like more information on teeth whitening, please contact us or schedule an appointment for a consultation. You can also learn more about this topic by reading the Dear Doctor magazine article "Teeth Whitening."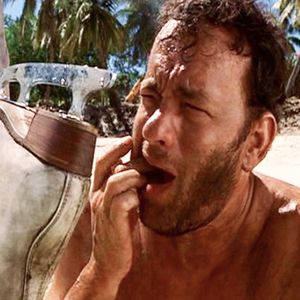 Did you see the move Cast Away starring Tom Hanks? If so, you probably remember the scene where Hanks, stranded on a remote island, knocks out his own abscessed tooth — with an ice skate, no less — to stop the pain. Recently, Dear Doctor TV interviewed Gary Archer, the dental technician who created that special effect and many others.
"They wanted to have an abscess above the tooth with all sorts of gunk and pus and stuff coming out of it," Archer explained. "I met with Tom and I took impressions [of his mouth] and we came up with this wonderful little piece. It just slipped over his own natural teeth." The actor could flick it out with his lower tooth when the time was right during the scene. It ended up looking so real that, as Archer said, "it was not for the easily squeamish!"
That's for sure. But neither is a real abscess, which is an infection that becomes sealed off beneath the gum line. An abscess may result from a trapped piece of food, uncontrolled periodontal (gum) disease, or even an infection deep inside a tooth that has spread to adjacent periodontal tissues. In any case, the condition can cause intense pain due to the pressure that builds up in the pus-filled sac. Prompt treatment is required to relieve the pain, keep the infection from spreading to other areas of the face (or even elsewhere in the body), and prevent tooth loss.
Treatment involves draining the abscess, which usually stops the pain immediately, and then controlling the infection and removing its cause. This may require antibiotics and any of several in-office dental procedures, including gum surgery, a root canal, or a tooth extraction. But if you do have a tooth that can't be saved, we promise we won't remove it with an ice skate!
The best way to prevent an abscess from forming in the first place is to practice conscientious oral hygiene. By brushing your teeth twice each day for two minutes, and flossing at least once a day, you will go a long way towards keeping harmful oral bacteria from thriving in your mouth.
If you have any questions about gum disease or abscesses, please contact us or schedule an appointment for a consultation. You can learn more by reading the Dear Doctor magazine articles "Periodontal (Gum) Abscesses" and "Confusing Tooth Pain."
How botox from your dentists in Mill Creek, Washington can help you look your best.
Did you know your dentist can help you look younger? It's true, thanks to the skills of your dentist and Botox. Dr. Chad Slocum and Dr. Sara Lundgaard at Penny Creek Family & Implant Dentistry in Mill Creek, Washington offer a wide range of cosmetic dentistry services, including Botox treatment.
Botox is an injectable medication at the forefront of anti-aging services. It works by temporarily freezing the nerves and muscles at the injection site. After Botox, skin appears smoother, and the appearance of lines and wrinkles is dramatically reduced.
Lines and wrinkles form as you get older because your skin loses moisture and elasticity over time. When you laugh, smile, or show other emotions, your skin doesn't snap back the way it did when you were younger. Instead, the lines of emotion grow deeper and more permanent over time.
Botox can smooth out the lines and wrinkles, so you and your skin appear much younger. Consider Botox treatment to help reduce the appearance of:
Crow's feet, the lines appearing at the corners of your eyes
Furrows, the lines running across your forehead
Glabella, the lines between your eyebrows
Smile and laugh lines running from your nose to your mouth
The number of injections you need will depend on the area being treated. Results typically last between 4 and 6 months, and maintenance treatments are recommended.
Consider Botox treatment from your dentist. Botox can be an important part of an anti-aging routine to keep you looking your best. To find out more about how Botox from your dentist can help you, call Dr. Chad Slocum and Dr. Sara Lundgaard of Penny Creek Family & Implant Dentistry in Mill Creek, Washington at (425) 337-7300. Call today.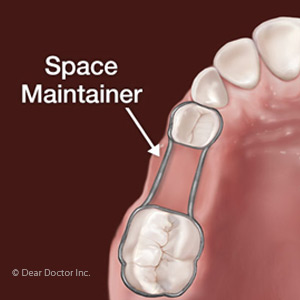 Children losing their primary ("baby") teeth is both natural and necessary. So, is it really that much of a concern if they lose one early?
The answer is yes — premature primary tooth loss could have long-term consequences for the permanent teeth as they develop within the jaw before eruption. Primary teeth play a crucial role in this development: as the permanent teeth form and grow the primary teeth serve as placeholders until they're ready to erupt. A natural process then takes place in which the primary tooth's roots dissolve (resorb) to allow them to fall out. Once they're out of the way, the permanent teeth can then erupt.
If, however, they're lost before the permanent teeth are ready, it leaves a space in the child's bite. The dynamic mechanism between teeth and the periodontal ligament causes adjacent teeth to move or "drift" into the space. This can crowd out the permanent tooth intended for the space, causing it to come in improperly forming a malocclusion (bad bite), or it may become impacted and remain partially or fully below the surface of the gums.
This poor dental development could lead to extensive orthodontic treatment later in life, which is why we seek to preserve even decayed primary teeth for their entire natural lifespan. If the tooth is lost, however, we need to take action to preserve the space for the permanent tooth and avoid costly treatment later.
This usually calls for a "space maintenance" appliance — a type of orthodontic "retainer" — worn by the child to prevent other teeth from drifting into the space. Designed by your orthodontist, the appliance can also perform a cosmetic and social function by causing the space to appear unnoticeable.
Maintaining that space requires monitoring — especially by an orthodontist — and continued dental hygiene and care both at home and at the dentist's office. The extra care preserving the space caused by premature tooth loss will help to ensure your child's dental structure develops properly and their future smile will be an attractive one.
If you would like more information on the care and treatment of primary teeth, please contact us or schedule an appointment for a consultation. You can also learn more about this topic by reading the Dear Doctor magazine articles "Early Loss of Baby Teeth" and "Losing a Baby Tooth."