My Blog
Posts for tag: dental crowns
By Penny Creek Family and Implant Dentistry
March 05, 2021
Dental crowns can help your smile in several ways. They can replace missing teeth or improve the appearance of teeth with cosmetic issues. Crowns also strengthen weak or damaged teeth and restore biting and chewing functions. Dr. Chad Slocum and Dr. Sara Lundgaard, the skilled family dentists at Penny Creek Family & Implant Dentistry in Mill Creek, WA, can improve your smile with dental crowns.
Dental Crowns
Dental crowns are hollow caps that look like natural teeth. They are placed over existing teeth to improve their appearance or strengthen and protect them. The natural tooth is completely encapsulated inside the crown. For weak or damaged teeth, the crown gives them a stronger, new exterior that can withstand the force of biting and chewing. Dental crowns are often used to strengthen and protect teeth following root canal treatment. For teeth with cosmetic issues, dental crowns give them a flawless new look.
Another way dental crowns can help your smile is by replacing missing teeth. A crown can function as a prosthetic tooth when attached to a dental implant making it easy to replace individual teeth. Crowns can also anchor a dental bridge in place. Dental crowns on each end of the bridge fit over the existing teeth on either side of the gap being filled.
The different ways dental crowns can help your smile include:
Strengthening teeth
Replacing missing teeth
Holding bridgework in place
Improving the appearance of teeth
Restoring biting and chewing functions
Protecting teeth from further damage
Preventing loose fillings from falling out
Dental crowns are custom-made to fit perfectly in place and blend in with the rest of your smile. One of the family dentists at our office in Mill Creek. WA, can help you strengthen, restore, and improve the appearance of your smile with custom dental crowns.
Benefits of Dental Crowns
Dental crowns offer several benefits. One exciting benefit is that they look just like your natural teeth. They are also strong and durable. Another benefit of dental crowns is that they can address a wide range of cosmetic issues. For example, teeth that have stains and discolorations that cannot be treated with teeth whitening can be given a flawless new look with dental crowns. The appearance of teeth that are chipped, cracked, or oddly shaped can also be dramatically improved with dental crowns.
Dental crowns can help your smile by strengthening, restoring, and protecting damaged teeth, as well as by improving their overall appearance. To learn more about how dental crowns can improve your smile, schedule an appointment with Dr. Slocum or Dr. Lundgaard, our exceptional family dentists, by calling Penny Creek Family & Implant Dentistry in Mill Creek, WA, at (425) 337-7300.
By Penny Creek Family and Implant Dentistry
September 30, 2019
Our Mill Creek, WA, dentists Dr. Chad Slocum and Dr. Sara Lundgaard have preserved countless damaged teeth thanks to dental crowns,
a versatile restoration that looks just like the crown of a natural tooth. If you are dealing with a weak or injured tooth then you too could benefit from getting a dental crown.
How does a dental crown work?
The purpose of a crown is to preserve and strengthen the natural structure of a damaged tooth. Once the custom restoration is placed it's designed to encapsulate the tooth above the gum line.
In order for a crown to fit over the tooth, our Mill Creek, WA, general dentist will need to take impressions of your mouth to get the right measurements from which to craft your crown. These measurements are sent to an outside dental lab that will create your crown from a durable tooth-colored material such as ceramic or porcelain so that it looks just like a real tooth. A crown won't stand out or look different from the rest of your natural smile.
When are dental crowns used?
A crown serves a rather important role in restoring a smile. They are placed over weak, broken or otherwise damaged teeth to support them and to preserve as much of the natural structure of the tooth that's left after the damage. Not only does it improve the overall shape and look of the tooth but it also protects it from further damage. Teeth that are severely decayed, as well as cracked, fractured, misshapen or root canal-treated teeth may require a dental crown.
While the main purpose of a crown is to restore a damaged tooth it can improve a severely stained or oddly shaped tooth that also affects your smile's appearance.
Do you have questions about getting a dental crown in Mill Creek, WA? If so, we are happy to answer any of your questions and help you decide the best restorative dentistry to preserve your smile. Call Penny Creek Family & Implant Dentistry today at (425) 337-7300.
By Penny Creek Family & Implant Dentistry
May 15, 2013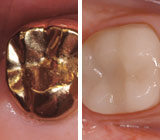 A "crown" or a "cap" is the term used to restore a decayed or broken tooth that needs to be completely encased to protect the tooth beneath it. A crown's dual purpose is to restore the tooth's form and function. Decades ago gold was the material of choice for a crown. What we ultimately choose depends on a particular crown's requirements with regard to the tooth's appearance and function, and to some extent what you want.
Gold: Gold crowns last the longest and wear the best (at about the same rate as natural teeth), but they are not used as frequently today, especially if they are visible in a person's smile. Gold crowns are made of cast gold, a technique that has been in use for over a hundred years. They can last for decades, and have been known to last 50 years or more. They tend to cost less per tooth than porcelain or other materials.
All-Porcelain: "All porcelain" crowns have a natural appearance and as technology improves they are gaining popularity. Dental porcelains are composed of ceramic substances that are variations of glass. This gives them their translucent, lifelike appearance — but it makes them brittle and subject to fracture. Therefore all-porcelain crowns may not be a good choice for back teeth because they frequently fail under the biting forces applied during chewing and especially adverse habits like tooth clenching or grinding. Porcelain crowns are made of material that doesn't wear. Consequently, it can cause excessive wear to the teeth they bite against.
Porcelain-Fused-to-Metal (PFM): PFM crowns have been in use for more than 40 years. They combine a substructure of gold or platinum for strength and have porcelain "facings" for the visible surfaces. In some ways they combine the best of both worlds, but they do have some problems; the metal can show through the porcelain, detracting from its life-like appearance. These crowns can have a functional lifespan of about 20 years or more.
New and Future Materials: Newer "pressed-ceramic" restorations and computer-milled ceramics have received good reviews for aesthetics and service. These new materials are being intensively researched. Initial results look good, but we'll have to see how they last over time.
Contact us today to schedule an appointment or to discuss your questions about crowns and other dental restorations. You can also learn more by reading the Dear Doctor magazine article "Gold or Porcelain Crowns?"