My Blog
Posts for tag: dental emergencies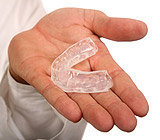 Youth sports can be a positive life experience for your child or teenager. But there's also a risk of injury in many sporting activities, including to the teeth and mouth. An injury to the mouth, especially for a child or young adolescent whose teeth are still developing, can have a significant negative impact on their oral health.
When it comes to teeth or mouth injuries, the best preventive measure is for your child to wear an athletic mouthguard, especially for contact sports like football, hockey or soccer. But be warned: not all mouthguards are alike — and neither is their level of protection.
Mouthguards can be classified into three types. The first is known as "stock," which is the least expensive and offers the least level of protection. They usually are available only in limited sizes (small, medium, large, etc.) and cannot be custom-fitted for the individual. This significantly lowers their protective ability, and thus we do not recommend these to our patients.
The next type is referred to as "boil and bite." These mouthguards are made of a material called thermoplastic, which becomes pliable when heated. When first purchased, the guard is placed in boiling water until soft; the individual can then place them in the mouth and bite down or press the guard into the teeth until it hardens and forms to their palates. Although this type offers a better fit and more protection than stock mouthguards, it isn't the highest level of protection available.
That distinction goes to the last type — a custom mouthguard made by a dentist. Although the most expensive of the three, it offers the best fit and the highest level of protection. A well-made custom mouthguard is tear-resistant, fits comfortably, is easy to clean and doesn't restrict speaking and breathing. We recommend this guard as your best alternative for protecting your child athlete from tooth and mouth damage.
If you would like more information on the use of athletic mouthguards for young athletes, contact us or schedule an appointment for a consultation. You can also learn more about this topic by reading the Dear Doctor magazine article "Mouthguards."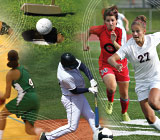 When it comes to sports, all athletes need to know how to assess their risk for experiencing a sports-related injury as well as how to prevent one. The first step to accomplish this is learning how sports and activities are classified, as they define risks from little-to-no chance of injury to highly susceptible for injuries. These categories include:
Low velocity, non-contact sports: These sports and activities have the lowest risk, as they typically include sports where the athletes perform individually at reasonable speed without physical contact. Examples include: golf, Nordic skiing, weight lifting, running and swimming.
High velocity, non-contact sports: These sports and activities are those where athletes move at high rates of speed but with no contact with other participants. While there is no contact, anytime you are moving at high rates of speed, accidents can happen. Examples include: bicycling, motocross, skateboarding, skiing and snowboarding.
Contact sports: As the title states, these sports and activities include frequent body-to-body contact or body to equipment (e.g., a ball, glove, etc.) contact. Examples include: basketball, soccer, lacrosse, baseball and softball.
Collision sports: With these sports and activities, strong, forceful, body-to-body or body-to-equipment contact is a primary goal of the sport. Examples include football, ice hockey, rugby, and boxing. Without the proper protective head and mouth gear, participants are highly likely to experience an oral-facial and/or head injury.
The good news is that you can dramatically reduce the odds of serious dental and oral-facial injury by ensuring that you wear a professionally made mouthguard in addition to a helmet, facemask, or other protective gear that is appropriate to the sport. This is especially true if you participate in the high velocity, contact and collision categories. These simple steps can help reduce worries for not only players, but also for parents, caregivers and coaches. For more information, read, "An Introduction To Sports Injuries & Dentistry." You can also download a FREE, pocket-sized guide for managing dental injuries.