My Blog
Posts for tag: dental fillings
By Penny Creek Family & Implant Dentistry
September 06, 2013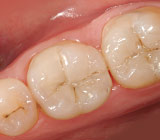 Tooth-colored fillings are just one of the many ways that cosmetic dentistry has evolved over the past few decades. There was once a time where having a cavity treated meant that you would be left with a noticeable metal filling. However, today we have an array of tools and materials available that help make tooth repair more like creating a fine piece of art.
Tooth-colored fillings are made of composite resin, which is a mixture of plastic and glass. Composite resin is not only more aesthetically pleasing, but also better for your teeth than metal fillings. Metal fillings can require your dentist to remove healthy parts of your tooth to create a ledge (undercut) that locks the filling in place. Tooth-colored fillings do not need this undercut to stay in place. In fact, they physically attach, or bond, to natural tooth structure. The procedure is also very simple. We'll apply the composite resin directly to your teeth, sculpt it and then finally harden it with a special light. When you see the results, you will be amazed at how natural and lifelike the restoration appears.
Another advantage of tooth-colored fillings is that they are strong and flexible. When you bite or chew, they will absorb and transfer the forces, just like your natural teeth. Metal fillings are strong, but they are also stiff, which can stress your teeth and make them more susceptible to cracking.
During your examination, we will evaluate if tooth-colored fillings are the best tooth repair option. If your cavity is too large for composite resin, we may recommend a porcelain filling. This procedure may require two appointments: the porcelain filling will be crafted in a dental laboratory, and we will then place this filling at your next visit.
If you would like more information about tooth-colored fillings, please contact us or schedule an appointment for a consultation. You can also learn more by reading the Dear Doctor magazine article "The Natural Beauty of Tooth-Colored Fillings."
By Penny Creek Family & Implant Dentistry
April 05, 2013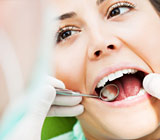 For decades, dental amalgam — the common "silver" fillings found in the mouths of millions — was the best option for restoring teeth after the removal of decay. This time-tested material is still going strong, but in recent years it's had serious competition from newer restoration techniques that use tooth-colored substances to make fillings. If you've heard of these new materials and want to know more, you can start with the following five facts.
1) Filling materials must match the properties of natural teeth.
When properly cared for, teeth are strong, resilient, and superbly functional. A good filling material should mimic the strength and durability of natural teeth under biting forces. It should also last a long time in the mouth, be relatively easy to place, and be economical in cost. In the past, amalgam fillings were the best choice to do the job. But that was then.
2) Tooth-colored filling materials offer similar benefits, plus aesthetic appeal.
Composite resins and dental porcelains are tough, durable materials that have been found to hold up well under years of use. Unlike traditional silver fillings, however, they match the appearance of natural teeth quite closely. This means that even a restoration in the front of the mouth may be virtually undetectable. And who wouldn't like that?
3) Tooth-colored resins may allow more conservative treatment in decay removal.
In order to keep them securely in place, amalgam (silver) fillings may require "undercutting," which removes more of the tooth structure. The process involved in bonding tooth-colored restorations, however, generally requires removal of less tooth material. This means a stronger base for rebuilding the tooth's structure.
4) Different treatment methods are used for different degrees of tooth restoration.
Small cavities can be treated by direct "chairside" techniques, which are very similar to the methods used for traditional amalgam (silver) fillings: in one brief visit, it's all done. When a greater volume of tooth structure must be replaced, we may be able to create a larger tooth-colored filling in a longer visit. Or, we might need to have a special restoration made to match your teeth; then, you can come back to have it securely bonded for a natural and long-lasting result.
5) Both amalgam and tooth-colored fillings are safe and effective.
Each has advantages and disadvantages in particular cases. But as the technology of tooth-colored filling systems evolves, some dental researchers have heralded the beginning of the "post-amalgam era." Are tooth-colored fillings right for your individual situation? We're the ones to ask.
If you would like more information about tooth-colored fillings, please contact us or schedule an appointment for a consultation. You can also learn more about this topic by reading the Dear Doctor magazine article "The Natural Beauty of Tooth-Colored Fillings."