My Blog
Posts for tag: dental health tips
By Penny Creek Family and Implant Dentistry
March 21, 2011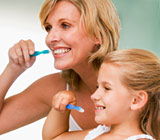 Some of the most important lessons parents and caregivers can give their children involve teaching and demonstrating good oral health habits. The following tips from the Centers for Disease Control and Prevention (CDC) are some ideas for helping you keep your children's teeth healthy.
Start cleaning teeth early.
As soon as a child's first tooth erupts (appears), you should clean it daily by using a clean, damp cloth. Once several teeth are in, you should switch to a small, soft-bristled toothbrush. As for using toothpaste containing fluoride, you typically should start using it to brush your child's teeth at around 2 years old. However, there are some situations in which we recommend using toothpaste earlier than age 2. It just depends on your child's mouth and development.


Use the right amount of fluoride toothpaste.
Many people are aware that using toothpaste containing fluoride is an important tool for fighting tooth decay. But, many are shocked to discover how much should be used and what could happen if too much is used and swallowed. Because children under the age of 6 may tend to swallow all or some portion of toothpaste, you should only use (and teach them to use) a small amount—about the size of a pea. Otherwise, they could be at risk for getting white spots on their permanent teeth years later from having swallowed too much fluoride. This is also a key reason for teaching children how to rinse and spit properly after brushing their teeth.


Supervise brushing.
Because children's abilities and maturity can vary greatly from child to child, you should brush your children's teeth until they have demonstrated the ability to handle the task alone. However, even when you give them the power to self-brush, you need to monitor them closely to ensure they are doing a thorough job, using the correct amount of toothpaste, and not brushing in a way that could damage teeth or gums. Brushing for too long and too hard are bad habits that can be detrimental to teeth and gums.


Talk to your child's doctor and with our office.
Did you know that your first appointment should be at age one? The age one dental visit can be critical in establishing great communication and trust, and preventing early childhood decay. And having a positive rapport with your dentist and physician is important at any age; however, it is vital for parents and caregivers to develop great communication with their healthcare professionals on behalf of their children from the start of life. Not only does it model good habits for them to observe, but it also helps you stay abreast of the oral and general health needs.
Want to learn more?
Contact us today to discuss your questions or to schedule a consultation. You can also learn more by reading the Dear Doctor article, "Oral Hygiene Behavior."
By Penny Creek Family & Implant Dentistry
February 14, 2011
For decades, fluoride has been held in high regard by the dental community as an important mineral that strengthens tooth enamel, which thereby helps to prevent decay of tooth structures.
Water fluoridation is endorsed by nearly every major health and safety-related organization in the world. Communities make it a common practice to "fluoridate" their drinking supplies in order for the general population to benefit from this inexpensive and effective preventative treatment. According to the American Dental Association, more than 144 million U.S. residents in more than 10,000 communities drink fluoridated water, most from public water supplies with sodium fluoride added artificially.
Bottled water, home water treatment systems, and fluoride exposure
Can the consistent use of bottled water result in individuals missing the benefits of optimally fluoridated water? Can home water treatment systems (e.g., water filters) affect optimally fluoridated water supplies? The answer is yes to both. Read how you can avoid some of the pitfalls that may be preventing you from getting the maximum value of fluoride, in this article from the American Dental Association.
ADA statement on FDA toothpaste warning labels
The American Dental Association`s Council on Scientific Affairs believes that one part of the warning now required on fluoride toothpastes by the Food and Drug Administration (FDA) could unnecessarily frighten parents and children, and that the label greatly overstates any demonstrated or potential danger posed by fluoride toothpastes. The label language, "If you accidentally swallow more than used for brushing, seek professional help or contact a poison control center immediately," is now required on all fluoride toothpastes. But the ADA, in a letter sent to the FDA last year, pointed out that a child could not absorb enough fluoride from toothpaste to cause a serious problem and that the excellent safety record on fluoride toothpaste argues against any unnecessary regulation.
Enamel fluorosis
According to the American Academy of Pediatric Dentistry, a child may face a condition called enamel fluorosis if he or she receives too much fluoride during the years of tooth development. Too much fluoride can result in defects in tooth enamel.
CDC web site provides information on community water fluoridation
People seeking information on whether their water system is fluoridated, can now find out by visiting a new Web site at the Centers for Disease Control and Prevention (CDC). The new feature, "My Water`s Fluoride," allows consumers in participating states to check out basic information about their water system, including the number of people served by the system and the target fluoridation level. Optimal levels recommended by the U.S. Public Health Service and CDC for drinking water range from 0.7 parts per million (ppm) for warmer climates, to 1.2 ppm for cooler climates accounting for the tendency to drink more water in warmer climates. States that are currently participating include Arizona, Colorado, Delaware, Florida, Georgia, Illinois, Indiana, Iowa, Maine, Massachusetts, Michigan, Minnesota, Nebraska, New Hampshire, Nevada, North Dakota, Oklahoma, Pennsylvania, and Wisconsin.
For more information about fluoride in our drinking water in Mill Creek Washington, please contact Dr. Chad G. Slocum DDS or Sara M. Lundgaard DDS at Penny Creek Family & Cosmetic Dentistry.