My Blog
Posts for tag: dentures
By Penny Creek Family and Implant Dentistry
November 07, 2019
You're tired of your current dentures and want something more stable and easily cared for. All-on-4 dental implants may be for you. Penny
Creek Family & Implant Dentistry in Mill Creek, Drs. Chad Slocum and Dr. Sara Lundgaard offer these state-of-the-art tooth replacements. Learn more here.
Frequently asked questions about All-on-4 dental implants
What are dental implants?
Dental implants are today's most versatile and successful tooth replacement option. Made from biocompatible titanium, implant screws reside in the jaw bone and accept single-tooth replacements, or in the case of All-on-4, a full denture. At Penny Creek Family & Implant Dentistry in Mill Creek, Dr. Slocum and Dr. Lundgaard offer All-on-4 dental implants as a very successful way to a long-lasting, high-functional, and attractive smile.
How can they help me?
Dental implants actually improve bone quality. Through something called osseointegration, the bone in your jaw adheres to the titanium implant, forming a practically inseparable bond. In the case of All-on-4 tooth replacement, the dentist places four implants in strategic locations in the alveolar arch. These implants firmly anchor your new acrylic teeth.
Is the treatment complex?
Yes and no is the best answer to that question. From your perspective, the treatment will be comfortable, and you'll get to enjoy your new smile right away. From your dentist's perspective, it takes expertise and experience to do the evaluation and placement process correctly. A complete oral examination and three-dimensional imaging tells your dentist if implants are right for you. If they are, you'll undergo an in-office oral surgery to place the implants in the bone. Most patients do well with local anesthetic to control discomfort.
Does osseointegration take a long time?
Complete integration of your implants with your jaw bone typically takes several months, says Authority Dental. However, because osseointegration starts as soon as your implants are placed, your smile will become functional much sooner. Your dentist will give you instructions on the care of your All-on-4 smile, on your diet and more.
How long will my All-on-4 smile last?
Most All-on-4 procedures are very successful, and patients enjoy the benefits of an attractive, resilient smile for years.
Arrange a consultation
These revolutionary teeth could be yours! Why not call Penny Creek Family & Implant Dentistry in Mill Creek, WA, for a consultation? Dr. Slocum or Dr. Lundgaard will answer all your questions and get you on the path to a great smile. Phone us at (425) 337-7300.
By Penny Creek Family & Implant Dentistry
July 19, 2013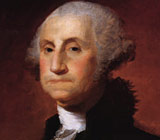 Everyone knows that George Washington wore false teeth. Quick, now, what were our first President's dentures made of?
Did you say wood? Along with the cherry tree, that's one of the most persistent myths about the father of our country. In fact, Washington had several sets of dentures — made of gold, hippopotamus tusk, and animal teeth, among other things — but none of them were made of wood.
Washington's dental troubles were well documented, and likely caused some discomfort through much of his life. He began losing teeth at the age of 22, and had only one natural tooth remaining when he took office. (He lost that one before finishing his first term.) Portraits painted several years apart show scars on his cheeks and a decreasing distance between his nose and chin, indicating persistent dental problems.
Dentistry has come a long way in the two-and-a-half centuries since Washington began losing his teeth. Yet edentulism — the complete loss of all permanent teeth — remains a major public health issue. Did you know that 26% of U.S. adults between 65 and 74 years of age have no natural teeth remaining?
Tooth loss leads to loss of the underlying bone in the jaw, making a person seem older and more severe-looking (just look at those later portraits of Washington). But the problems associated with lost teeth aren't limited to cosmetic flaws. Individuals lacking teeth sometimes have trouble getting adequate nutrition, and may be at increased risk for systemic health disorders.
Fortunately, modern dentistry offers a number of ways that the problem of tooth loss can be overcome. One of the most common is still — you guessed it — removable dentures. Prosthetic teeth that are well-designed and properly fitted offer an attractive and practical replacement when the natural teeth can't be saved. Working together with you, our office can provide a set of dentures that feel, fit, and function normally — and look great too.
There are also some state-of-the art methods that can make wearing dentures an even better experience. For example, to increase stability and comfort, the whole lower denture can be supported with just two dental implants placed in the lower jaw. This is referred to as an implant supported overdenture. This approach eliminates the need for dental adhesives, and many people find it boosts their confidence as well.
If you have questions about dentures, please contact us or schedule an appointment for a consultation. You can learn more in the Dear Doctor magazine articles "Removable Full Dentures" and "Implant Overdentures for the Lower Jaw."
By Penny Creek Family and Implant Dentistry
January 18, 2012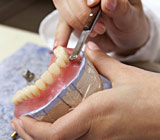 Even with all the medical know-how we possess at the dawn of the 21st century, complete tooth loss is still a big problem. In this country, more than a quarter of all adults between ages 65 and 74 have lost all of their teeth. For these individuals, removable full dentures are often still used as an affordable and effective way to replace missing teeth.
Success with dentures originates from a collaboration among dentist, laboratory technician, and, of course, the denture-wearer. Creating false teeth that look natural is as much an art as it is a science. We take a number of steps to make sure you will get the best results. These include:
Positioning the teeth. Using facial landmarks and photographs of how you used to look before your teeth were lost helps us determine where to place each tooth and how the upper and lower teeth should line up in relation to each other. For example, we will consider what size the teeth should be; how close to the lip they should be; and how much space should exist between the upper and lower teeth when they are at rest.
Simulating natural gums. If you are someone with a "high lip dynamic" (a lot of gum shows when you smile), it is particularly important to simulate real gum tissue in a set of full dentures. Fortunately, there are many colors and textures available to create a realistic effect. Again, photographs can be helpful in achieving this.
Balancing the bite. We must make sure that your upper and lower dentures come together in a way that facilitates normal biting, chewing, and speech.
As a denture wearer, you will need to visit our office regularly to make sure the gum tissue and bone upon which your dentures rest stay healthy. It's common to see a gradual loss of bone in people who wear dentures at a rate that varies from person to person. This bone loss can affect the fit of your dentures and lead to other health problems, which we can address if we are monitoring you on an ongoing basis.
If you have any questions about dentures, please contact us or schedule an appointment for a consultation. You can learn more about this topic by reading the Dear Doctor magazine article "Removable Full Dentures."