My Blog
Posts for tag: gum disease
By Penny Creek Family and Implant Dentistry
June 08, 2017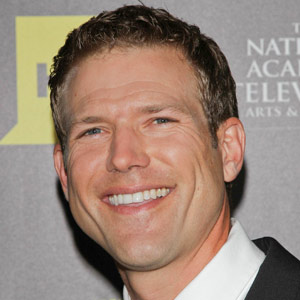 Are bleeding gums something you should be concerned about? Dear Doctor magazine recently posed that question to Dr. Travis Stork, an emergency room physician and host of the syndicated TV show The Doctors. He answered with two questions of his own: "If you started bleeding from your eyeball, would you seek medical attention?" Needless to say, most everyone would. "So," he asked, "why is it that when we bleed all the time when we floss that we think it's no big deal?" As it turns out, that's an excellent question — and one that's often misunderstood.
First of all, let's clarify what we mean by "bleeding all the time." As many as 90 percent of people occasionally experience bleeding gums when they clean their teeth — particularly if they don't do it often, or are just starting a flossing routine. But if your gums bleed regularly when you brush or floss, it almost certainly means there's a problem. Many think bleeding gums is a sign they are brushing too hard; this is possible, but unlikely. It's much more probable that irritated and bleeding gums are a sign of periodontal (gum) disease.
How common is this malady? According to the U.S. Centers for Disease Control, nearly half of all  Americans over age 30 have mild, moderate or severe gum disease — and that number increases to 70.1 percent for those over 65! Periodontal disease can occur when a bacteria-rich biofilm in the mouth (also called plaque) is allowed to build up on tooth and gum surfaces. Plaque causes the gums to become inflamed, as the immune system responds to the bacteria. Eventually, this can cause gum tissue to pull away from the teeth, forming bacteria-filled "pockets" under the gum surface. If left untreated, it can lead to more serious infection, and even tooth loss.
What should you do if your gums bleed regularly when brushing or flossing? The first step is to come in for a thorough examination. In combination with a regular oral exam (and possibly x-rays or other diagnostic tests), a simple (and painless) instrument called a periodontal probe can be used to determine how far any periodontal disease may have progressed. Armed with this information, we can determine the most effective way to fight the battle against gum disease.
Above all, don't wait too long to come in for an exam! As Dr. Stork notes, bleeding gums are "a sign that things aren't quite right." Â If you would like more information about bleeding gums, please contact us or schedule an appointment. You can read more in the Dear Doctor magazine article "Bleeding Gums." You can read the entire interview with Dr. Travis Stork in Dear Doctor magazine.
By Penny Creek Family & Implant Dentistry
August 29, 2013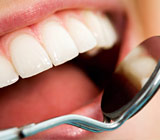 Being "in the pink" is a good thing; it means you're healthy. Being "in the red" is not so good; it means your health is questionable (financially, anyway). Though they weren't coined for dentistry per se, these colorful expressions are helpful reminders when it comes to taking care of your gums: Pink is their natural, healthy color; that's what you want to see every time you look in the mirror. Red is generally a warning that something's amiss.
If your gums, or "gingiva," appear slightly swollen and reddened at the margins and/or they bleed when lightly prodded by brushing or flossing, it's likely that you have gingivitis. This is an immune response to the buildup of bacterial plaque (biofilm) at your gum line. It is also an early red flag for periodontal disease (peri – around, odont – tooth), a degenerative process that affects not only the gums, but the periodontal ligament that attaches each tooth in its bony socket, and the underlying supporting bone.
Attentive home dental hygiene practices prevent most plaque buildup from occurring. Brushing correctly at the gum line is a good start. But even a deftly handled brush can't reach everywhere, so it's important to use dental floss or specially designed mini-brushes to get in between teeth and other hard-to-reach areas. Our office can instruct you on optimal home care techniques. We also encourage you to visit at regular intervals for professional cleanings so you are assured of addressing anything home care might miss.
In the absence of good oral hygiene, dental plaque can build and become increasingly difficult to remove as it calcifies, becoming tartar. It becomes a breeding ground for disease-causing microbes that normally wouldn't have the chance to gain a foothold. When caught early, gingivitis can be treated before any harm is done. Sometimes a thorough professional cleaning is sufficient. If the problem is ignored, however, the disease will most certainly progress to destruction of the surrounding, supporting tissues — the periodontal ligament and the underlying bone. If this happens, tooth loss could eventually result.
That said, there can be other causes for bleeding gums. These include:
Brushing too rigorously or using a toothbrush with bristles that are too firm
Side effect of a medication
In women, elevated hormone levels (e.g., birth control pills or pregnancy)
A systemic (bodily) disease
Whatever the reason, red is not normal when it comes to your gums. The sooner you discover the underlying reason(s) for inflammation or bleeding and take appropriate action, you and your smile will be back in the pink and you'll have no reason to be blue!
If you would like more information about preventing or treating bleeding gums, please contact us or schedule an appointment for a consultation. You can also learn more about this topic by reading the Dear Doctor magazine article "Bleeding Gums."
By Penny Creek Family & Implant Dentistry
November 27, 2012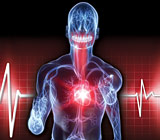 You've probably heard that old song about the leg bone being connected to the knee bone; it's easy to see how the human skeleton links together. But the concept of anatomical parts being interconnected actually goes further than you might think. Problems in almost any part of the body can have profound effects in other areas. Your gums offer a perfect example.
Believe it or not, medical research has established a connection between gum disease and cardiovascular disease (CVD). They appear to be linked by inflammation, a protective response to infection. Inflammation can be characterized by a redness and swelling of the body's tissues that you can see. Or its effects can be less obvious.
Gum disease is an infection caused by bacteria, which build up in the mouth in the absence of regular or effective brushing and flossing. When left undisturbed, the bacterial biofilms (dental plaque) change over time so that a small set of highly pathogenic ("patho" – disease; "genic" – causing) organisms emerge that cause periodontitis ("peri" – around; "odont" – tooth; "itis" – inflammation).
Periodontitis can cause not just a localized inflammation of the gum tissue, but also a systemic (whole-body) inflammation. And this chronic, low-grade inflammation throughout the body appears to increase the risk of heart disease considerably. The good news is that there is a lot we can do about gum disease. And when we reduce the inflammation it causes, we can also reduce the risks for CVD and the heart attacks and strokes that can result.
The first step is a thorough, professional periodontal cleaning to remove the bacterial biofilm attached to the roots of the teeth. Sometimes a short course of antibiotics is prescribed to further fight the infection. Advanced periodontitis may require surgery so that we can reach all of the contaminated root surfaces for removal of the bacterial biofilm.
We will also review with you how you can prevent the growth of harmful bacteria through an effective daily oral hygiene routine. This is crucial to maintaining your oral health, which in turn affects your general health and overall well-being.
Contact us today to schedule an appointment to discuss your questions about the relationship between gum disease and heart disease. You can also learn more by reading the Dear Doctor magazine article, "The Link Between Heart & Gum Diseases."