My Blog
Posts for tag: sports dentistry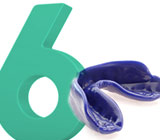 When involved in high impact sports or vigorous activities, it is important to protect your mouth and teeth. This statement is backed by the fact that there are over 600,000 sports-related dental injuries treated in emergency rooms across the US each year according to the US Centers for Disease Control (CDC).
In addition to absorbing and distributing the forces that impact the mouth, teeth, face and jaws an athlete receives while participating in sports such as baseball, football, basketball, hockey (ice and field), skateboarding and wrestling, the American Dental Association (ADA), also recommends the use of custom mouthguards for other activities such as acrobatics, bicycling, handball, racquetball, skiing, and even weightlifting.
These facts make two things clear: (1) it is vital that you obtain a professionally made mouthguard that you wear during these types of activities and (2) that you also understand how this mouthguard protects you. Below are just a few ways.
Lacerations. A custom-fit, professionally made mouthguard covers the sharp surfaces of the teeth to protect the soft tissues of the cheeks, lips, gums and tongue from lacerations that can occur from a blow or sudden jolt.
Mouth Impact. Just as a mouthguard protects against soft tissue lacerations, it can also help prevent injuries to the jaws and teeth. This includes but is not limited to chipped teeth, fractured teeth, broken teeth and teeth that are partially or fully knocked out of their natural position.
TMJ (jaw joint) Trauma. Wearing a properly fitted mouthguard can reduce the potential for jaw displacement and joint fractures by cushioning the jaws against damage from an impact.
Direct Jaw Impact. Anytime a person receives a direct impact to his/her jaw, having a mouthguard in place may help prevent more serious injuries to teeth and jaws. This is especially important for anyone diagnosed with TMJ.
Jaw Fracture. A custom-fit, professionally made mouthguard both absorbs and distributes impact forces so that jaws are protected. And it is this reduction in force that can help prevent the jaws from fractures.
Under Chin Impact. Receiving a blow under the chin can obviously damage teeth; however, it can also cause damage to the jaws as well as inflame or cause TMJ issues.
You can learn more about mouthguards by continuing to read the Dear Doctor magazine article "Athletic Mouthguards." Or you can contact us today to schedule an appointment.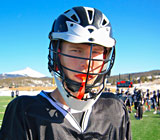 We have learned that an important part of oral health is education — but more importantly, making it fun to learn so that you retain (and apply) what you learn! For this reason, we have put together the following self-test so that you can quickly access your knowledge on the subject of mouthguards.
The first sport to use (and require) protective mouthguards was:

football
boxing
baseball
ice hockey

Research conducted by the American Dental Association (ADA) found that individuals are ___ times more likely to damage their teeth when not wearing a mouthguard while engaged in contact sports or rigorous physical exercise.

10
20
40
60

As a rule of thumb, females do not require mouthguards because they are not as physically active as their male counterparts.

True
False

The American Academy of General Dentistry (AAGD) reports that mouthguards prevent more than ______ injuries to the mouth and/or teeth each year.

200,000
300,000
400,000
500,000

Which of the following sports or activities does the ADA recommend that participants wear protective mouthguards:

acrobatics
bicycling
handball
all of the above

The US Centers for Disease Control (CDC) reports that more than ______ sports-related injuries end-up in the emergency room each year with injury or damage to the teeth and mouth.

275,000
425,000
600,000
735,000

Over-the-counter mouthguards are just as effective as professionally made mouthguards.

True
False

In addition to the trauma of having a tooth (or teeth) knocked out, individuals who have suffered from this type of injury may end up spending ______ per tooth over a lifetime for teeth that are not properly preserved and replanted according to the National Youth Sports Foundation for Safety.

$10,000 to $20,000
$15,000 to $25,000
$25,000 to $35,000
Less than $10,000
Answers: 1) b, 2) d, 3) b, 4) a, 5) d, 6) c, 7) b, 8) a
You can learn more about the importance of mouthguards when you continue reading the Dear Doctor magazine article "Athletic Mouthguards." And if you have already experienced a dental injury, it may not be too late. However, we need to evaluate the damage so that we can establish a plan for restoring optimal oral health. Contact us today to learn more about protecting your mouth and teeth or to schedule an appointment.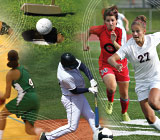 When it comes to sports, all athletes need to know how to assess their risk for experiencing a sports-related injury as well as how to prevent one. The first step to accomplish this is learning how sports and activities are classified, as they define risks from little-to-no chance of injury to highly susceptible for injuries. These categories include:
Low velocity, non-contact sports: These sports and activities have the lowest risk, as they typically include sports where the athletes perform individually at reasonable speed without physical contact. Examples include: golf, Nordic skiing, weight lifting, running and swimming.
High velocity, non-contact sports: These sports and activities are those where athletes move at high rates of speed but with no contact with other participants. While there is no contact, anytime you are moving at high rates of speed, accidents can happen. Examples include: bicycling, motocross, skateboarding, skiing and snowboarding.
Contact sports: As the title states, these sports and activities include frequent body-to-body contact or body to equipment (e.g., a ball, glove, etc.) contact. Examples include: basketball, soccer, lacrosse, baseball and softball.
Collision sports: With these sports and activities, strong, forceful, body-to-body or body-to-equipment contact is a primary goal of the sport. Examples include football, ice hockey, rugby, and boxing. Without the proper protective head and mouth gear, participants are highly likely to experience an oral-facial and/or head injury.
The good news is that you can dramatically reduce the odds of serious dental and oral-facial injury by ensuring that you wear a professionally made mouthguard in addition to a helmet, facemask, or other protective gear that is appropriate to the sport. This is especially true if you participate in the high velocity, contact and collision categories. These simple steps can help reduce worries for not only players, but also for parents, caregivers and coaches. For more information, read, "An Introduction To Sports Injuries & Dentistry." You can also download a FREE, pocket-sized guide for managing dental injuries.