My Blog
Posts for tag: tooth wear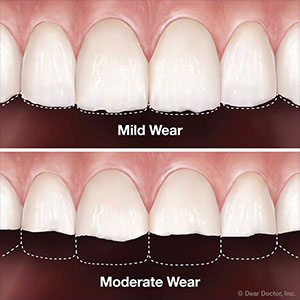 Unlike our primitive ancestors, our teeth have it relatively easy. Human diets today are much more refined than their counterparts from thousands of years ago. Ancient teeth recovered from those bygone eras bear that out, showing much more wear on average than modern teeth.
Even so, our modern teeth still wear as we age—sometimes at an accelerated rate. But while you can't eliminate wearing entirely, you can take steps to minimize it and preserve your teeth in your later years. Here are 3 things you can do to slow your teeth's wearing process.
Prevent dental disease. Healthy teeth endure quite well even while being subjected to daily biting forces produced when we eat. But teeth weakened by tooth decay are more susceptible to wear. To avoid this, you should practice daily brushing and flossing to remove disease-causing dental plaque. And see your dentist at least twice a year for more thorough dental cleanings and checkups.
Straighten your bite. A poor bite, where the top and bottom teeth don't fit together properly, isn't just an appearance problem—it could also cause accelerated tooth wear. Having your bite orthodontically corrected not only gives you a new smile, it can also reduce abnormal biting forces that are contributing to wear. And don't let age stop you: except in cases of bone deterioration or other severe dental problems, older adults whose gums are healthy can undergo orthodontics and achieve healthy results.
Seek help for bruxism. The term bruxism refers to any involuntary habit of grinding teeth, which can produce abnormally high biting forces. Over time this can increase tooth wear or weaken teeth to the point of fracture or other severe damage. While bruxism is uncommon in adults, it's still a habit that needs to be addressed if it occurs. The usual culprit is high stress, which can be better managed through therapy or biofeedback. Your dentist can also fashion you a custom guard to wear that will prevent upper and lower teeth from wearing against each other.
If you would like more information on minimizing teeth wear, please contact us or schedule an appointment for a consultation. You can also learn more about this topic by reading the Dear Doctor magazine article "How and Why Teeth Wear."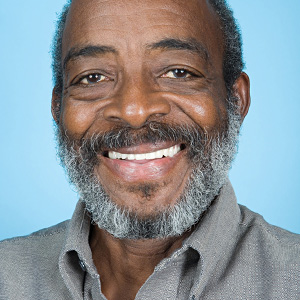 One of the unfortunate aspects of aging is tooth wear. Depending on your diet, years of biting and chewing can cause enamel along the biting surfaces to erode. Your body also can't replace enamel — so when it comes to teeth it's not a question of if, but how much your teeth will wear during your lifetime.
To make matters worse, certain conditions cause tooth wear to accelerate. Teeth softened by acids or tooth decay, for example, erode faster than healthier teeth. So will grinding habits: often fueled by stress, these include chewing on hard items like nails, pencils or bobby pins.
You may also grind your teeth, usually while you sleep. Normal biting and chewing produces pressure of about 13 to 23 pounds per square inch: grinding your teeth at night can well exceed this, even up into the hundreds of pounds.
There are some things we can do to alleviate these issues. For clenching and grinding habits, one primary step is to address stress through counseling or biofeedback therapy. For nighttime teeth grinding we can create a bite guard to wear while you sleep that will prevent your teeth from generating abnormal forces.
Finally, it's important that you take care of your teeth through daily oral hygiene, regular office cleanings and checkups, and a nutritious diet for maintaining strong bones and teeth. Keeping your teeth free from diseases that could compromise your enamel as well as other aspects of your mouth will help them stay as strong as possible.
If you would like more information on slowing the rate of tooth wear as you age, please contact us or schedule an appointment for a consultation. You can also learn more about this topic by reading the Dear Doctor magazine article "How and Why Teeth Wear."
If your teeth have a worn appearance, it's possible you have a habit you're not even aware of: clenching or grinding your teeth. Also called "bruxism," this destructive action causes your top and bottom teeth to come together or scrape past each other with a force that's many times what is normal for biting and chewing.
So what's normal? This can be expressed in terms of pounds. An adult usually exerts a force of 13-23 pounds to bite or chew food. But we have the potential to generate as much as 230 pounds of force, or 10 times what's normal. A "parafunctional" force of this magnitude applied repeatedly is bound to stress your teeth and other areas of your oral system. Besides wearing away the enamel of your teeth — and maybe even some of the softer dentin layer underneath — you may experience muscle spasms or pain in your jaw joints. Serious cases of wear can lead to "bite collapse" in which your face actually changes shape as your cheeks and lips lose support. This can make you look prematurely aged.
What can be done? To prevent further wear, we can fabricate for you a thin, plastic mouthguard that will protect your teeth at night or during times of intense stress. We can also recommend ways to temporarily relieve the discomfort that your grinding/clenching habits can cause. Heat and/or anti-inflammatory medication, for example, can be helpful.
If your tooth wear is minor (raggedness along the biting edge of a tooth or teeth) you may not need any restorative work. However, if tooth wear has already caused changes to your teeth and bite that you find aesthetically or functionally unacceptable, we can restore lost tooth structure in a variety of ways. Veneers and crowns are two examples.
If you have any questions about tooth wear or grinding habits, please contact us today to schedule an appointment for a consultation. You can learn more about this topic by reading the Dear Doctor magazine article "How And Why Teeth Wear."